Profile

The Scary Bex Diaries
Memoirs of a scarlet goth harlot
Free Account
Created on 2017-01-12 08:26:06 (#2748309), last updated 2017-01-12 (35 weeks ago)
24,491 comments received, 0 comments posted
4,342 Journal Entries, 40 Tags, 0 Memories, 1 Icon

About

Mini Bio
:SAFETY WARNING:

This journal contains a wild Bex taken from her native habitat.
You are advised not to poke your fingers through the bars, or make any sudden movements in the direction of the enclosure.


Sorry you need more?...All you need to know is:

LIKES:
Dressing up in PVC, rampaging, parties, having a good laugh with lovely people, and I am ever so slightly Greyhound obsessed (I own 3)! I Love to meet new people (it is the good bit about running an e-mail list!).
DOESN'T LIKE:
Snoring men, bitchy girls, spiders, my brutal honesty (at times)...and people who take me way too seriously.
THINGS TO REMEMBER:
I am a shy girl, don't mistake my shyness for an ego, that's a sad mistake to make. Approach me, I don't bite!

Life is meant for having fun! Regret nothing!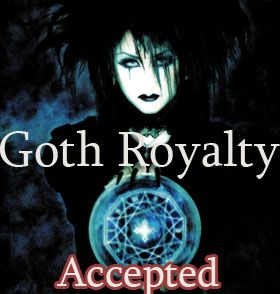 OTHER PLACES TO VISIT ME:

Please also add my Greyhoundy Journal
lakers_amy

I post my knitting project up here sometimes, but a list of them is here:
http://knittygoth.blogspot.com/






*HUGS* TOTAL!
give scarybex more *HUGS*

Get hugs of your own





Connect

People
[View Entries]

[livejournal.com]
21stc-vlad
,
angel-wings22
,
angelkitty101
,
areteus
,
ashe-black
,
barbedwirekiss
,
belladonna-9
,
berley-girl
,
berrega
,
bionicgeekgrrl
,
boglin
,
budgie-uk
,
bumpslj
,
candi-topping
,
claycarnac
,
cybermule
,
darkling-hair
,
darksunmcmlxxxi
,
deenial
,
deeply-spurious
,
diglett
,
dj-alexander
,
dmh
,
doglet-cfc-male
,
doglets
,
drivenapart
,
ebb
,
etoile-violet
,
faerieevenstar
,
fuzzygoth
,
gemlins
,
godgirl
,
gothgirlblues
,
griff-23
,
grim-tim
,
guill0tine
,
gypsygoth
,
holaholaamigos
,
huggirl
,
ickle-yuki
,
janey-m
,
jenova-red
,
juresa
,
just-becky
,
just-jazz
,
kamalaya
,
kate-r
,
kathrid
,
kris-ether
,
lakers-amy
,
litt1e-n0thing
,
lordknightfall
,
malice-crafts
,
mandalorean
,
masters-pet
,
mickmercer
,
miss-corinne
,
miss-needles
,
miss-squiddy
,
mistahg
,
morbidstar
,
mothcornglitter
,
mr-flay
,
mrph
,
necro-ignis
,
obsidianinchain
,
oroboras
,
perspexavenger
,
poggs
,
purple-lilly
,
purplekitten99
,
quantumsuz
,
quirky-birky
,
rainbowskye
,
roseapparatus
,
rougenoire
,
sapphrine
,
sarahlascelles
,
sarahloo
,
satellite-kid
,
scaryb-knit
,
scarybex
,
sciamachy
,
shadow-lost
,
sheepthief
,
sheff-dogs
,
souldestiny
,
spangle-kitten
,
stelmaria-clg
,
streaky
,
sunflowerinrain
,
sushiho
,
sushimonster
,
tawdryfilth
,
thehappygoth
,
theperkygoth
,
threepymeepy
,
tinydaisy
,
tj-dragon
,
topping-tons
,
toripink
,
toxicpixie
,
trashcan17
,
twokan
,
urshulgi
,
utile-et-dulce
,
v-lizzy
,
veelow
,
vientral
,
vix-da-vixen
,
wicked-sky
,
wyrdreddragon
,
xdeletedscenex
,
zevbofb3k

[users.livejournal.com]
_em
,
_gh0st_
,
_illumina_
,
_mrx_
,
_vampy_
,
black-sunshine-
,
black_rainbow_
,
eddy_
,
ree_

Communities
[View entries]

Feeds
[View Entries]

Subscriptions (0)

Linking
To link to this user, copy this code:
On Dreamwidth:
Elsewhere: